"National Lampoon's Lost Reality 2" Giveaway
Win a chance to receive a "National Lampoon's Lost Reality 2" prize pack!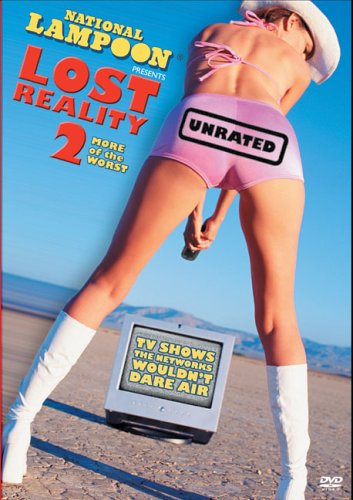 Winners of the contest:
Congratulations to the winner Damian C. from Glendale, CA, for winning the grand prize. Brian H. from Nampa, ID, and Danny P. from Marietta, SC, are the runner-up winners and will each receive a copy of the DVD. You will be receiving your prizes in the next few weeks.
To promote the release of "National Lampoon's Lost Reality 2: More of the Worst" on DVD, we are giving away a prize pack. "National Lampoon's Lost Reality 2" was released on DVD on May 24, 2005, and it is a collection of reality show TV pilots so outrageous and controversial that TV networks wouldn't dare air them. It includes more unearthed footage from returning favorites from the first DVD "The Amazing Racist" and "Money," plus new shows like "Midget Wars," "Dumpster Dinner," and "Beer Goggles."
How to Enter:
Send your name and mailing address (U.S. residents only please) to shawn@entertainyourbrain.com. Put "Lost Reality 2 Giveaway" in the subject line. Entries will be accepted through Sunday, July 31, 2005. Please, only one entry per person. Multiple submissions will be deleted.
Prizes:
One grand prize winner will receive the DVD and the novelty toys Doggie Doo Doo, a Joke Exploding Game, the Original Billy-Bob Teeth, and Foaming Sugar. Two runner-up winners will get the DVD each.
The winner will be selected randomly and notified by Monday, August 1, 2005 via e-mail and an announcement on the site. Good luck to all those that enter!