"MI-5" Giveaway
Win a chance to receive a box set of A&E's "MI-5" Season 2!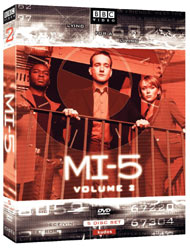 Winners of the contest:
Congratulations to the winner George K. from Brookland, AR, and Alice S. from Longmont, CO. You will be receiving your prizes in the next few weeks.
For the first time on Entertain Your Brain, we have a giveaway for you! Two winners will receive a box set of "MI-5" Season 2 available at BBC America. Also, please check out WB Reel News, where you can get updates of the latest Movie and DVD details from Warner Bros.
How to Enter:
Send your name and mailing address to shawn@entertainyourbrain.com. Put "MI-5 Giveaway" in the subject line. Entries will be accepted through Thursday, March 31, 2005. Please, only one entry per person. Multiple submissions will be deleted.
Prizes:
Two grand prize winners will each receive one copy of "MI-5" Season 2.
Each winner will be selected randomly and notified by Friday, April 1, 2005 via e-mail and an announcement on the site.
Don't forget, you can still order a box set on DVD yourself from BBC America today!
Additional Information:
Get the inside info on WB movie & DVD releases!
Good luck to all those that enter!